Luis Felipe Scolari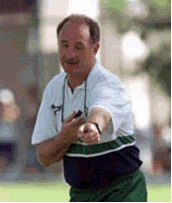 BORN: 11TH September 1948 in Passo Fundo, Brazil
OCCUPATION: Brazilian National Team Coach 2001. The third to hold this prestigious position in less than a year.
HONOURS: Won Brazilian Championship & Brazilian Champions Cup in 2000 with Cruzeiro. At South American Club level he won the Mercosur Cup 2000 & the Libertadores Cup 200, also with Cruzeiro.
BACKGROUND:
" Expressed his passion for Nottingham Forest on BBC Radio Five. He said he had always been an admirer of English football, and had fallen in love with Brian Clough's all conquering side in the late 1970's.
" Big Phil, as he's affectionately known, once famously got himself into a bit of bother in a match against Paraguay.
Brazil had just got back into the game at 1-1, when the big man lost his head somewhat and managed to get himself sent off for shouting abuse at a linesman. He then went off and hid from the authorities on the stairs, while his assistant, Flavio Murtosa, took over, and saw Brazil score twice more before he too began badmouthing the officials and got himself dismissed for dissent. Both remained hid on the stairs until the 3-1 victory was confirmed.
The officials were escorted from the ground. Not to protect them from the crowd, but to protect them from Big Phil. What would Cloughie say?!?
U-REDS Researcher: Chris Rooney