Su Pollard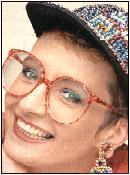 Although she doesn't like to admit it often, Susan Georgina Pollard was born on
7th November 1949 in Nottingham, England. The eldest daughter to Don and
Hilda Pollard (they were in shock for so long that it took them another seven
years before they came up with a sister for Su, in the shape of the lovely Jean).
Su's interest in the stage began when at the age of six she played an angel in the
school nativity play. Whilst standing on a box announcing the arrival of the angel
Gabriel, she fell through the lid. Everyone roared with laughter and she loved it from
that moment. At sixteen she began singing in charity shows and at working men's clubs
and pubs whilst working as a secretary and her claim to fame from that time was that
she was the first woman to sing Ave Maria in hotpants in a working men's club!
After an apprenticeship at the Arts Theatre in Nottingham Su made her television
debut in 1974 on the enormously popular talent show hosted by Hughie Green,
Opportunity Knocks, where her rendition of "I'm Just A Girl Who Can't Say No"
from Oklahoma saw her come second to a singing Jack Russell dog... Undeterred,
she went on to play in the musicals The Desert Song and Rose Marie with John
Hanson, starred in Cameron Mackintosh's West End production of Godspell,
played opposite Jack Wild in Big Sin City at the Roundhouse, toured in the musical
Grease in a company that also included Tracey Ullman, had them rocking in the
aisles with Tim Brooke-Taylor and Hugh Paddick in the farce Not Now Darling, won
a role in Andrew Sach's play Philately Will Get You Nowhere and appeared at the
Mermaid Theatre in a celebration of the music of Cole Porter called Oh Mr. Porter.
Su's first comedy role was in a BBC series screened in 1978 entitled Two Up, Two
Down in which she played a hippy named Flo with Paul Nicholas playing her partner,
both of whom were squatting in the house of a nice middle class couple. It only lasted
one series but then in 1979 came the pilot programme for a new BBC comedy written
by Jimmy Perry and David Croft set in a holiday camp. It was of course Hi De Hi!
The role of Peggy Ollerenshaw was to make Su a household name and the title of the
series became a catchphrase echoed through the land. Hi De Hi! has now gone onto
achieve almost legendary status in the annals of British comedy and ran until 1988,
notching up some 58 episodes which regularly attracted audiences of over 15 million.
As a result of rave reviews Su was offered the role of Sally in the West End production
of Me And My Girl at the Adelphi Theatre which she played for over a year. Then came
roles in a national tour of Rodgers and Hart's Babes In Arms playing Bunny Byron opposite
Matthew Kelly, the title in Sweet Charity during a record breaking season at the Connaught
Theatre, Worthing and the stage production of Hi De Hi! - The Holiday Musical, which
along with all the gang from the television series played sell out seasons in Bournemouth
(Summer 1983), The Victoria Palace (Winter Season 1983/84) and finally The Opera House
in Blackpool (Summer 1984).
Website: http://supollard.org