By car:
A6/A523 over Peak District from the the junction of these two roads at The Rising Sun public house, follow signs to Stockport A6, then Manchester A6. After 2.8 miles, by The Nelson pub and with the town hall (large white building) ahead on the right hand side, turn left (s/p Cheadle A560, Stockport County FC) into Greek Street. At roundabout after 0.3 miles take 2nd exit (s/p Cheadle A5465) onto Mercian Way dual carriageway. Take the 2nd left turn into Caroline Street to ground.
By rail:
Less than 0.5 mile from the ground, a very simple walk - check the map.
Trouble Factor:
In general a very safe ground to visit.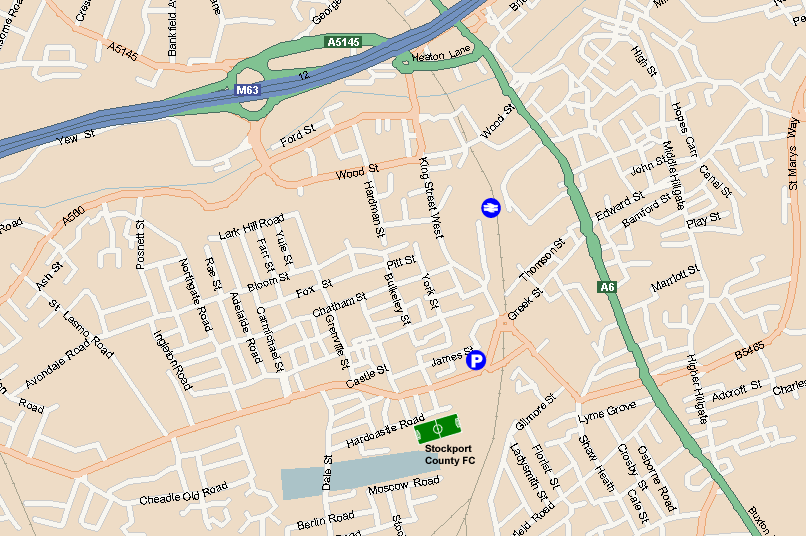 Click on Map to see a larger image
Car Parking:
Mainly on street parking.There are a couple of shoppers pay-and-display car parks off Edgeley Road and Mercian Way. If parking around the ground check restrictions as there is a residents only scheme in operation on some streets.
Pubs:
A good selection of pubs in the area, most are football friendly. Try: Sir Robert Peel on Castle Street, Prince Albert on Castle Street or The Greyhound on Bowden Street.
Food:
Average at best in the ground. Not bad, just not exciting. Loads of takeaways, Chip shops, etc. on Castle Street