By car:
From North, South and East: Exit M53 at junction 3 (s/p Birkenhead A552). Turn right at roundabout (s/p Birkenhead, Liverpool and Tunnels A552). After 1.1 miles, just after an Esso garage on the left hand side and by the Halfway House pub, turn right (s/p B5151 Clatterbridge, then Higher Bebington) into Storeton Road. Take 1st left into Woodchurch Lane which leads to ground.
From Birkenhead Tunnel: Out of tunnel, bear right and then left, following signs for A552, Tranmere Rovers FC, Heswall, Prenton. After 0.5 miles, go straight on at lights along Borough Road. Follow signs to Motorway, Clatterbridge, Heswall for 0.9 miles to third set of lights. Here, bear left (s/p Clatterbridge, Bebington B5151, Tranmere Rovers FC), remaining on Borough Road. Ground is on right after 0.2 miles.
By rail:
The police accompany fans to the ground for most games. However, should you arrive very early or late, and you find your escort is not there then the directions are:
Birkenhead Central station: About 1.3 miles. Out of station to huge roundabout with clock tower. Follow signs to Heswall, Clatterbridge into Borough Road. Where road divides after 1.1 miles, bear left (s/p Clatterbridge, Bebington B5151, Tranmere Rovers FC) towards Bugsy's Belly Bar. Ground is on right after 0.2 miles.
b) Rock Ferry station: About 1.1 miles. Walk up to main road and turn right (opposite the Rock Station pub) along Bedford Road. Straight on at crossroads after 0.2 miles into Bedford Avenue, and right at roundabout after 0.2 miles into Bebington Road, which runs alongside a park. At next roundabout after 0.4 miles (just after fish and chip shop) take 2nd left turn off roundabout into Everest Road. At T-junction after 0.2 miles, turn left to away turnstiles.
By bus:
The no. 64 runs from the centre of Birkenhead along Borough Road to Lower Bebington.
Trouble Factor:
Generally speaking this is a safe and friendly place to vist.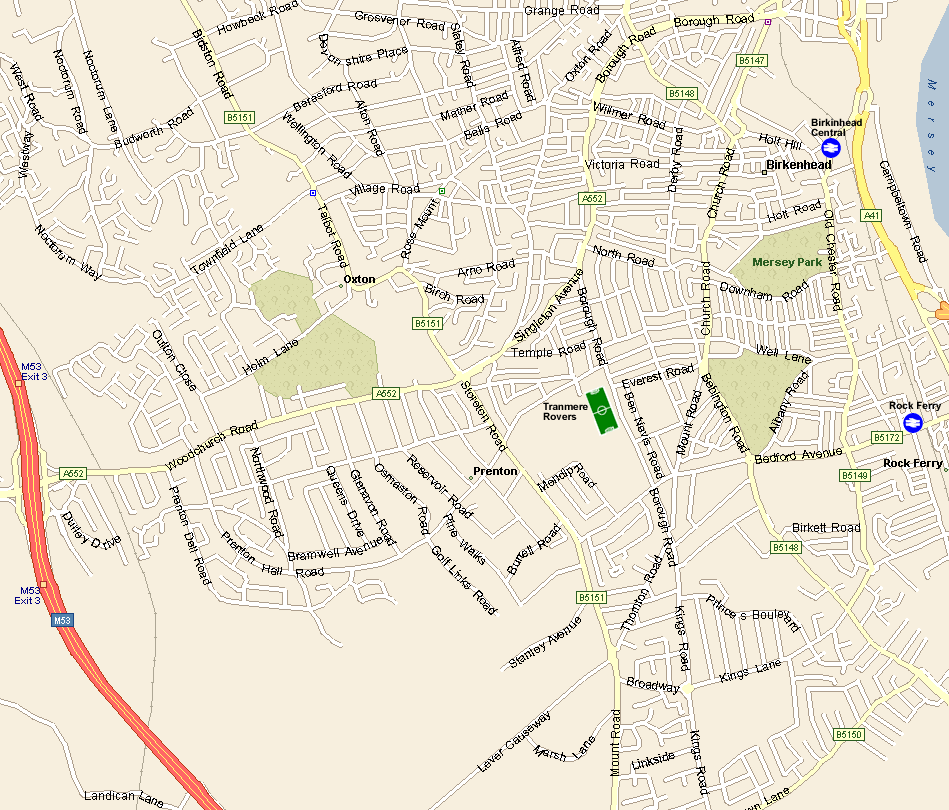 Click on Map to see a larger image
Car Parking:
Not easy. It's nearly all street-parking, and a residents' parking schemes operate in roads near the ground. Try Prenton Road East and the streets round Mount Road. There is also parking by Birkenhead Technical College on Borough Road.
Pubs:
The Mersey Clipper, behind the main stand on Prenton Road West is the best option, it's big, welcoming and friendly. It also serves good pub grub, but gets very busy and the kitchen stops taking orders long before kick-off, get there early if you want to eat.
Food:
See pubs.