By car:
From South (A12): A12 leads to major roundabout (by Tesco's) on Ipswich suburbs. Take 2nd exit (s/p Ipswich West A1214) into London Road. Follow Ipswich A1214 signs for 2.4 miles, over roundabout and lights, to junction/lights at bottom of hill. Go straight on (s/p Town Centre A1214), and after a few yards, at next lights, turn right (s/p Cliff Quay, Football) into West End Road. The away parking is on the RHS after 0.6 miles. To get to the ground, continue to where all traffic turns left into Chancery Road, and floodlights are directly ahead. At T-junction turn left into Princes Street and immediately left into Portman Road.
From North (A14): Two possible routes here: a) Continue on A14 to junction with A12, and pick up route from South, b) Exit A14 at signpost Ipswich West and North A1156. Follow Ipswich West and North signs over two roundabouts into Bury Road, which becomes Norwich Road. After 1.7 miles, at double roundabout by Inkerman pub turn right (s/p Colchester A12) into Chevallier Street. Straight on at crossroads after 0.3 miles (crossing Bramford Road). After 0.4 miles straight on at lights (s/p Cliff Quay, Football) into West End Road (turn left here for Portman Road parking). Then as From South.
By rail:
The floodlights are visible from in front of the station and it's less than a five minute walk. Head straight out of station and pass to the left of the Station Hotel. Over bridge and two sets of lights into Princes Street. First left into Portman Road.
Trouble Factor:
Fans are generally made welcome in and around the ground and there is very little trouble these days. The exception being the visits of rivals Norwich.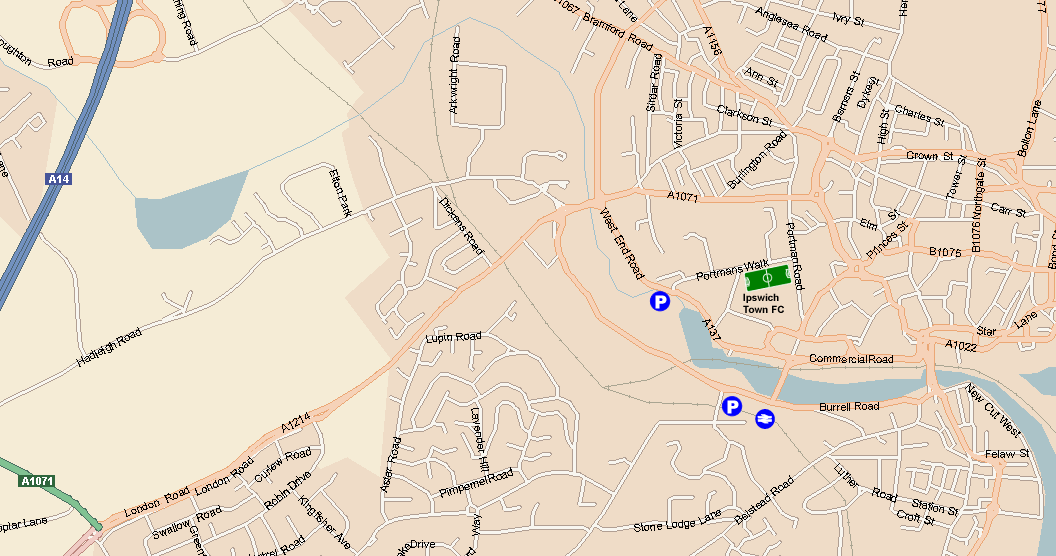 Click on Map to see a larger image
Car Parking:
Away fans are encouraged to park in one of two areas; either the pay and display car park at the station, or the car park signposted off West End Road (see road directions above). Both of them are fine and very close to the ground. There's also a huge car park in Portman Road itself. It can only be approached from Handford Road, as the other end of Portman Road is closed off by the Police
Pubs:
As the ground is close to the city centre there are a lot of pubs within walking distance. The Station Hotel (on Burrell Road), The Drum and Monkey (on Princes Street) and The Royal William (on London Road) are all worth a visit.
Food:
Again, plenty to be found within a five minute walk of the ground.