By car:
Most drivers will approach along the A19. As you approach this way, cross the river Wear, then take the A1231 toward the town, following signs for Sunderland North. The park-and-ride car parks are well signposted from the second roundabout.
By rail:
The railway station is a 15min walk from the stadium on the other side of the Wear. Turn left and then left again as you come out, then keep going straight until you come to Wearmouth Bridge - the stadium is on the left once you're over the river.
By bus:

Trouble Factor:
The ground is very safe and Sunderland fans tend to be a friendly breed unless you support Newcastle or Middlesbrough.
Fans Comments: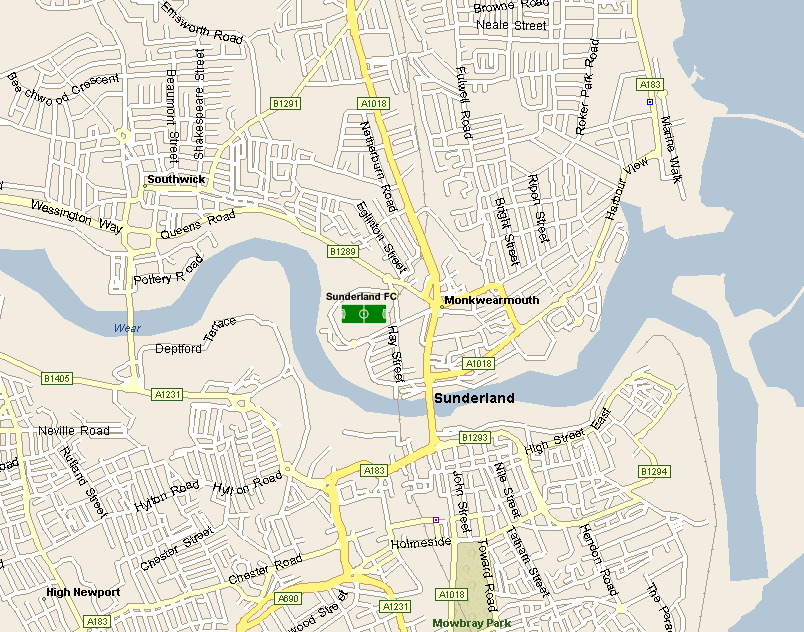 Click on Map to see a larger image
Car Parking:
Like a lot of new stadiums, The Stadium of light is easy to find but bloody impossible to park at. The club have solved this problem by setting up some excellent Park-and-Ride schemes which are all well signposted as you drive towards the ground (see directions by car).
Pubs:
Everything near the ground is home fans only. The ground itself sells beer on all the concourses otherwise a trip to the town centre is the only option for the thirsty fan.
Food:
Usual array of mobile food trucks outside the ground otherwise it's food inside the ground, which to be fair is not a bad standard.