By car:
From North, West and East: Exit M25 at junction 15 onto the M4 towards London. Stay on the M4, which becomes the A4, for 10.4 miles to first (Hogarth) roundabout. Take 2nd exit (s/p Central London, Hammersmith A4) passing Griffin Fullers brewery on right hand side. After 1.0 miles, exit A4 (just after BP garage, s/p Guildford, Portsmouth A3, Oxford, then Hammersmith A306). Straight on at lights after 0.1 miles (s/p Oxford A40). This leads to the huge Hammersmith roundabout. Go almost all the way round, turning off at signpost 'Alternative Route via Putney Bridge' into Fulham Palace Road. At lights after 0.5 miles turn left (s/p A3218 Fulham) into Lillie Road. At roundabout after 0.3 miles turn right (n/s). At roundabout after 0.1 miles turn left into Dawes Road (n/s). At T-junction/lights after 0.6 miles turn right into North End Road and at roundabout turn left into Fulham Road. Follow road towards the White Hart Charringtons pub and bear left at lights into Fulham Broadway, passing tube station on left hand side. Ground is on left hand side after 0.3 miles.
From South (via Putney Bridge): From Putney Bridge: Over bridge, and after 0.1 miles, straighten at 1st junction/lights (s/p The West, West End and Oxford). At mini-roundabout after 0.1 miles turn right (s/p West End A4, then Fulham, Earls Court) into Fulham Road. At mini-roundabout after 0.9 miles, by Fat Sam's Diner, go straight on (s/p West End A4). Where road divides after 0.1 miles, head straight across towards White Hart Charringtons pub. Then as From North, West and East.
By rail:
From Underground Station: Fulham Broadway (District Line, direction Wimbledon): It's a five minute walk. Turn left along the Fulham Road and keep going! The ground is on the left hand side.
By bus:
The no. 14 from Putney Heath to Tottenham Court Road and the no. 211 from Waterloo to Hammersmith run along Fulham Road past the ground.
The following buses either run along, or cut across the King's Road:
No. 11 from Liverpool Street station to Fulham Broadway.
No. 22 from Putney Common to Piccadilly Circus.
No. 28 from Golders Green to Wandsworth.
C3 from Earls Court to Clapham Junction.
No. 295 from Clapham Junction to Ladbroke Grove.
Trouble Factor:
Stamford Bridge is now a safe ground for the visiting fan despite it's previous reputation when the 'Shed' at Chelsea gave birth to some of the worst in football violence, most notably the infamous 'Headhunters'. Because of this reputation Stamford Bridge became one of the most heavily policed grounds in the country and ironically for the visiting fan, one of the safest. The 'Shed' is long gone, replaced by the Chelsea Village and the atmosphere is no longer as dangerous as it used to be.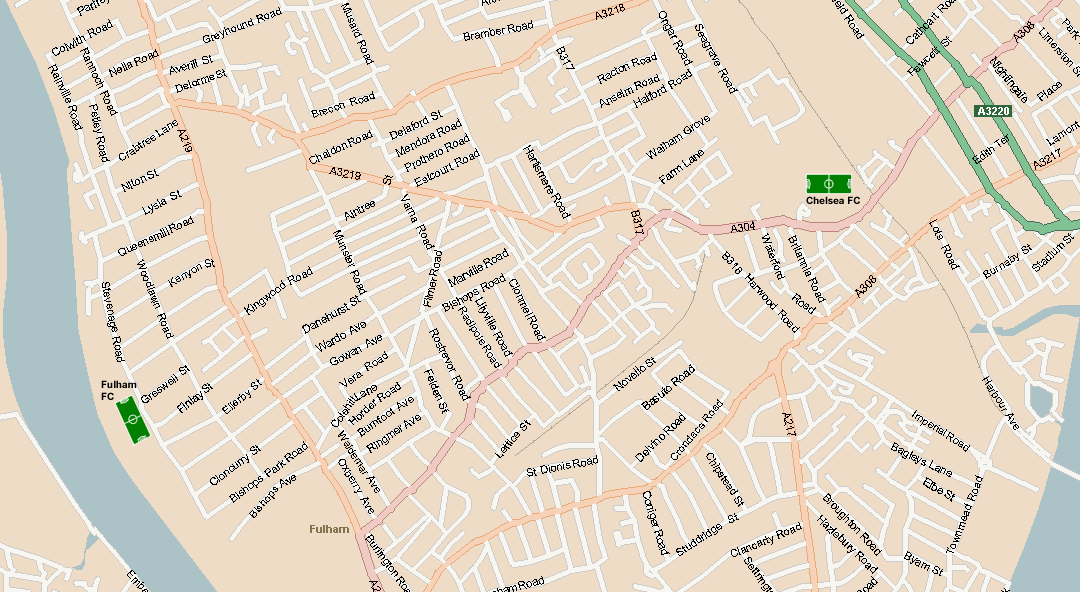 Click on Map to see a larger image
Car Parking:
There is parking down the local side-streets, mostly on a pay-and-display basis, but it's very limited and local residents don't take kindly to football traffic.
Some supporters park to the south of the river, the other side of Battersea Bridge. As with most London grounds, it's by far the best policy to park well away from the ground and take the tube.
Pubs:
The pubs nearest the ground have an army of bouncers outside them and tend to be home fans only. However, within a two or three minute walk from the grounds the mood becomes much friendlier to the visiting fan.