By car:
Note: All information on this page is for Filbert Street. Leicester move into their new stadium (The Walkers Stadium) for the 2002/03 season. The new stadium is only a few hundred yards from the old one (they share the same postcode) so for now these directions will get you there until we have something better.

From South (M1): Exit M1 at junction 21 (s/p Coventry M69, Leicester A46). At motorway roundabout turn right (s/p Leicester A46, Outer Ring A563). At roundabout after 0.4 miles, take 2nd exit (s/p Leicester A46) onto A46 Narborough Road dual carriageway. After 3.0 miles, by Lloyds Bank on LHS, turn right at lights (s/p Infirmary, De Montfort University, Univ of Leicester) into Upperton Road. After 0.5 miles (having crossed river) ground is down side-streets on right hand side.
From North (M1-A50): Exit M1 at junction 22 (s/p Leicester, Coalville) onto the A50. Follow Leicester and City Centre A50 signs for 4.8 miles over four roundabouts. At 5th roundabout, the junction with the A563, go straight on (s/p City Centre A50). After 1.4 miles turn right (s/p London M1, Coventry M69) into Fosse Road North. After 1.0 miles turn left at lights onto the A47 King Richard's Road. After 0.6 miles turn right (s/p Coventry A46, London M1, just after Bosworth pub on left hand side) onto Narborough Road North. After 0.6 miles turn left (s/p De Montfort Univ, Infirmary) into Upperton Road. Then as From South.
From East (A47):From village of Bushby, follow signs to City Centre and Central Ring Road for 3.0 miles, under bridge and past Burger King on LHS to roundabout. Take 2nd exit (s/p Central Ring South A594) onto Ring Road (St George's Way). After 0.4 miles, keep right where road divides (s/p Central Ring A594). After 0.3 miles, straight on where road divides (no s/p). After 0.4 miles, at T-junction opposite rugby ground, all traffic goes left into Welford Road. Treat this as a huge roundabout. Follow Motorways M1, M69 signs and take the 3rd exit into Walnut Street. The ground is down the sidestreets on left hand side after 0.2 miles.
From A46 (Newark): This route is not the shortest but it is the simplest. At Thurcaston roundabout take 3rd exit (s/p Leicester A46). At lights after 1.4 miles turn right (s/p Motorway M1, Loughborough A6) into Watermead Way (A563). Follow signs for Outer Ring Road A563, over a flyover and over 4 roundabouts, for 3.5 miles. At 5th roundabout turn left (s/p City Centre A50). Then as From North.
By rail:
The station on London Road is about a 15-20 minute walk from the ground. Taxis are available from the ground, however, there are no buses from the station that travel directly to the ground.
By bus:

Trouble Factor:
Generally good. Though there is a mindless element that sit in the South Stand and throw coins at the away fans diagonally opposite them. Hopefully this idiotic and pointless practice will die out when the new stadium opens.
Trouble, even at the new stadium, is most likely when local rivals Forest or Derby are in town.
Fans Comments: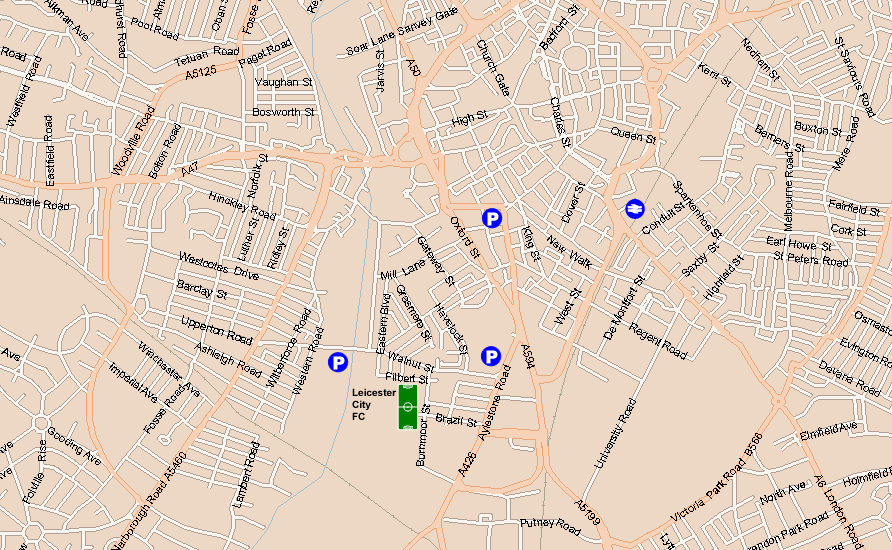 Click on Map to see a larger image
Car Parking:
Street parking around the ground is restricted on match days. There is a plethora of car parks that spring up in local businesses on match days. We don't know what the car parking situation will be when the new stadium opens its doors for the new season (2002/03).
Pubs:
Pubs around the ground are scarce and tend not to be away fan friendly, especially when Forest or Derby are in town. The city centre has a wide selection of pubs and eateries. Most welcome away fans, but again they become more restrictive for Forest and Derby games.
Food:
Plenty of fast food and other takeaways in the city centre.