By car:
From North (M1): Continue on M1 to end of motorway. Follow signs for A406 North Circular Road ; West, Heathrow (ie right at 1st roundabout, straight on at the 2nd) onto the North Circular. Take right hand lanes for A406 over flyover. After 5 miles, at Hanger Lane (junction with the M40) bear left, keeping on North Circular (s/p North Circular A406, The West A4, M40). Straight on for 1.9 miles to *Chiswick Roundabout (junction with M4). There are two alternative routes to Griffin Park from here:
i) Follow signs for South Circular Road A205, Kew Bridge. In 0.3 miles, where road divides go straight on (i.e. not over Kew Bridge), into Kew Bridge Road passing Kew Steam Museum on right hand side. After 0.5 miles, just after Red Lion pub, turn right at traffic lights into Ealing Road, which runs past Griffin Park.
ii) Follow sign for The West, Heathrow, M4, A4 (passing Esso garage on left hand side) onto A4. The road runs along underneath the raised section of the M4. At roundabout, after 2 miles, turn left (s/p Brentford) into Ealing Road.
By rail:
From Railway Station (Brentford): Brentford station is about 0.3 miles from Griffin Park. From station, go up to main road (Manor Road) and turn left. Second left into Windmill Road and then immediately right into Clifden Road (s/p Methodist Church). Right at T-junction to the away turnstiles.
From Underground.
Gunnersbury (District Line):About 1.5 miles to ground. Turn left out of station, along Chiswick High Road, to the Chiswick Roundabout. Then as car directions. Alternatively us bus: Nos. 237 or 267.
South Ealing (Picadilly Line): Turn right out of station into South Ealing Road. Past Penny Flyer pub on right hand side after 0.4 miles. After a further 0.3 miles, straight on at roundabout (s/p Brentford A315, Kew Bridge A205) under M4. Turn right by New Inn pub after 0.1 miles, and next left into Brook Road for away turnstiles. Alternatively use bus: No. 65.
Trouble Factor:
A friendly place to visit.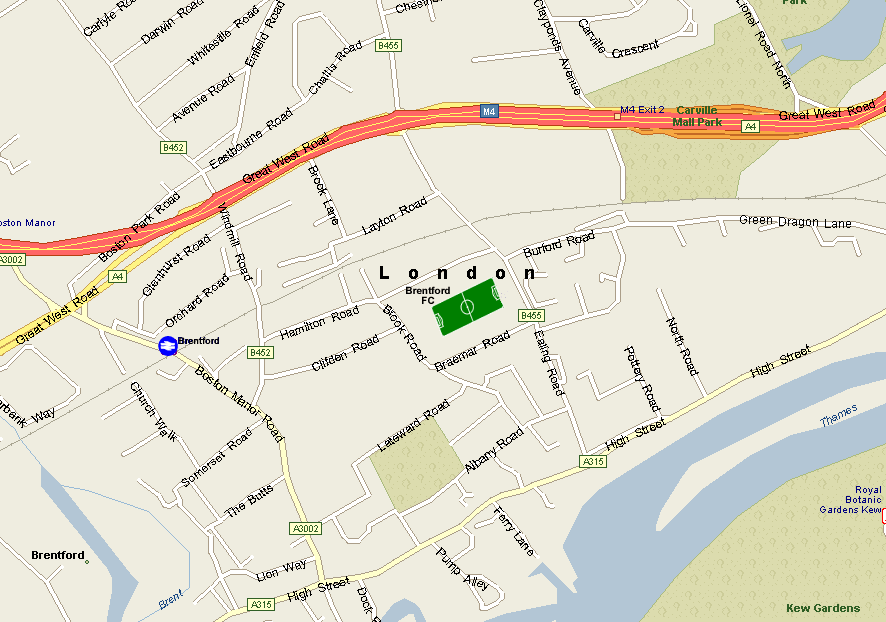 Click on Map to see a larger image
Car Parking:
It's mainly street parking and it's not usually a problem.
Pubs:
Griffin Park is famous for having a pub on each corner and the good news is they all welcome the well behaved visitor. The pubs are The Griffin, The Princess Royal, The Royal Oak and The New Inn.