By car:
All main routes: Exit M62 at junction 17. At roundabout follow signs to Whitefield A56, Radcliffe A665. After 0.2 miles go straight over double set of lights (s/p Bury A56, Radcliffe A665). After 0.8 miles, just after Bull's Head pub, bear right where road divides (s/p Bury A56). This road becomes the Manchester Road. Straight on at lights after 0.9 miles (s/p Town Centre). After 0.6 miles there's a sign for Newbank Garden Centre to the left. Don't follow it! Turn right instead - this is Gigg Lane. Ground is on the right after 0.1 miles.
From North and East (via M66): Exit M66 at junction 2 and follow s/p Bury A58 onto the A58 Rochdale Road. After 0.6 miles turn left at lights (s/p Manchester, Salford B6219) . After 0.7 miles turn left at mini-roundabout into Market Street. Straight over mini-roundabout after 0.1 miles, and right at T-junction after 0.2 miles into Gigg Lane.
By rail:
From Metrolink Station (Bury): Turn left out of station along covered passageway and past various bus-stops. At T-junction with Haymarket Street (ie with bingo hall ahead of you) turn left. Straight across crossroads, down Knowsley Street. This comes out by a clock tower and a white monument. The road opposite leads to The Tap and Spile. For the ground, turn left along the Manchester Road, passing the Staff of Life on the left hand side. Turn left after about 0.5 miles into Gigg Lane.
By bus:
Bus Nos. 134, 135, 136 and 137 run every ten minutes down Manchester Road past the end of Gigg Lane.
Trouble Factor:
A friendly and trouble free place to visit.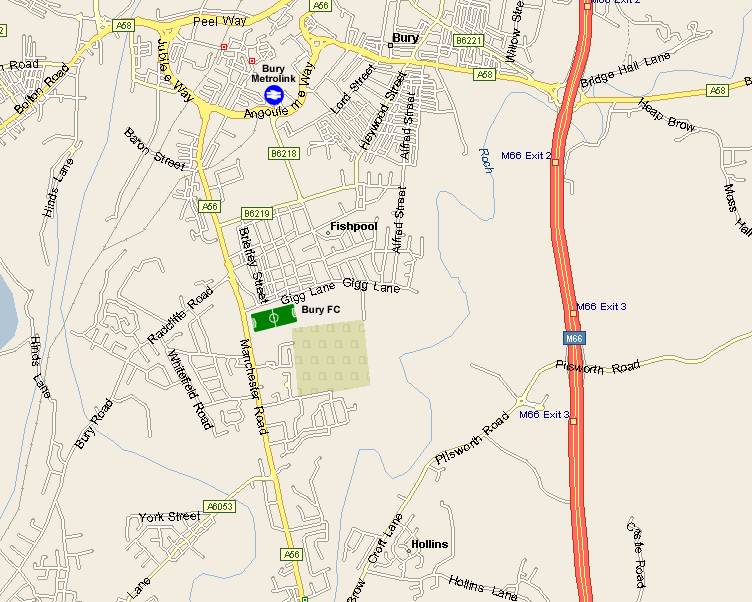 Click on Map to see a larger image
Car Parking:
Street parking only, but it's safe and there's plenty of it.
Pubs:
The Bury Social Club, just outside the ground, will admit away fans in small groups (entrance fee) if it has room.
The Swan and Cemetery is the unofficial away fans pub on Manchester Road.