By car:
From all directions, there are two main routes to Bloomfield Road, one to the ground, one to the main parking areas:
To the ground: Exit M55 at junction 4 (s/p Blackpool, Lytham St Annes A583) and at roundabout turn right (s/p Blackpool A583) onto Preston New Road dual carriageway. At junction after 1.8 miles go straight on (s/p Town Centre B5390 and Tower). Straight on through two sets of lights, passing Lounge Suites on left, into Park Road. Keep to the left and at lights after 0.3 miles, turn left into Bloomfield Road (s/p Football Ground car park, Promenade). Straight on over two sets of crossroads, and ground is on right.
To main car parking: Instead of exiting at junction 4, keep straight on following signs for the Main Parking Area onto Squires Gate Link Road, A5230. Straight on at roundabout (s/p Main Car and Coach Parks) into Yeadon Way. At roundabout after 2.0 miles go straight on (s/p All Other Parking Areas). At roundabout after 0.2 miles, take 2nd exit (s/p Central, Lonsdale Parking Areas) into Spine Road. There are car parks all along this road. The nearest to the ground come after 0.5 miles.
By rail:
Blackpool North Station: 1.5 miles. Head across forecourt and through underpass. Turn left up steps to main road (Talbot Road) and turn right to seafront. At seafront turn left along the Promenade. After 1.3 miles, bear left at lights into Lytham Road (s/p Car Park, South Station, Airport). Past Old Bridge pub and turn left at Scotch café into Bloomfield Road.
Blackpool South Station: Up to main road and turn left. At first lights turn right (s/p Football Ground) by William Hills into Lytham Road. After 0.3 miles turn right by Scotch cafe into Bloomfield Road.
By bus:
Buses run from the Talbot Road bus station, which is near Blackpool North Station. The following run to the football ground: the nos. 11, 11 a and 12 from Stand 'A'; nos. 22 and 22a from Stand 'D'; and nos. 23, 24 and 25 from Stand 'E'.
Trouble Factor:
A strange one this, no trouble in or around the ground. However, if you plan to make a weekend of it you can find trouble as supporters from or visiting other North West teams tend to stop over in Blackpool for Saturday night.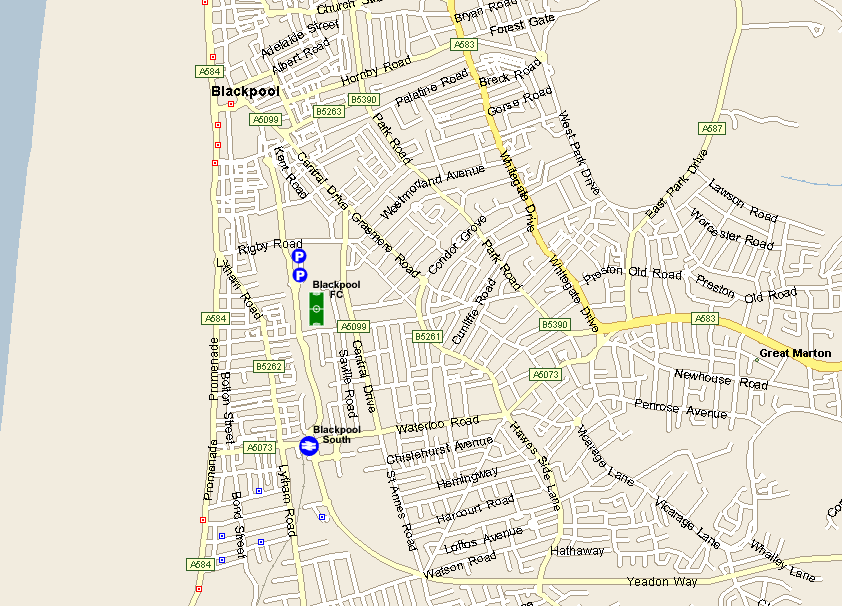 Click on Map to see a larger image
Car Parking:
See directions by Car for location of car parks.
Pubs:
The Bloomfield, which is the pub nearest the ground welcomes away fans but gets packed. There are many other pubs in the area and most welcome away fans. If your visit coincides with the holiday season expect them all to be busy.
Food:
An big selection of eateries where ever you turn, loads of chippys, burger bars etc. Just wander round the sea front, you won't go hungry.