By car:
From North, South, East (M1): Exit M1 at junction 29. At roundabout follow s/p Chesterfield A617, Matlock A632. At roundabout after 4.9 miles, take 2nd exit (s/p Town Centre, Bakewell A619). At roundabout after 0.2 miles, take 1 st exit (s/p Bakewell A619, Buxton A6) into Markham Road. At roundabout after 0.7 miles take 3rd exit, in front of the KFC Express, into Foljambe Road. For those going to the town hall parking and town centre take next left after the KFC (s/p Municipal Offices) into Rutland Road. Turn right at T-junction into Saltergate (s/p Through Traffic). Town hall is on the right hand side.
From West (A619 over Peak District, from roundabout by Terminus Restaurant): At roundabout after 0.6 miles (by Posh Paws) go straight on (s/p Town Centre A619). At roundabout after 0.7 miles turn left (n/s) in front of KFC into Foljambe Road. Then as From North, South, East(M1).
From Sheffield (A61): At first roundabout on outskirts of Chesterfield (just after Fiat garage), take 1st exit (s/p Chesterfield North B6057) onto the B6057. There are lots of takeaways along this road, and The Derby Tup pub on the left hand side. At roundabout after 0.7 miles go straight on (s/p Town Centre A6057). At mini-roundabout after 0.9 miles turn sharp right (s/p Barlow B6051- NB This is first signposted as a junction, not a roundabout) into Newbold Road. Take 3rd turning on left (Cobden Road) to ground.
By rail:
Head straight out of station, passing town map, and turn left into Corporation Street. Straight across crossroads, keeping the Chesterfield Hotel on the RHS, and over footbridge. Turn right at the Derbyshire Times (following pedestrian signpost to the town centre). Cross Tapton Lane to large roundabout with car park in centre. Head across car park, passing Comet on LHS towards the Manhattan pub. This is Saltergate. Pass Yellow Lion and County Hotel pubs on right hand side and ground is on right.
By bus:
Nos. 4, 5, 6, 38, 39 and 40 run near the ground.
Trouble Factor:
Very friendly place to visit inside and outside the ground.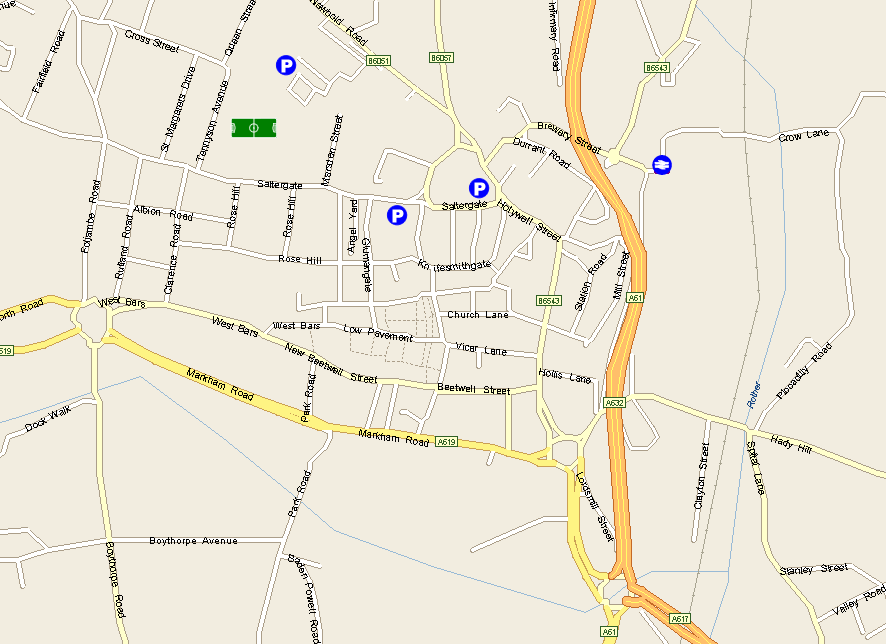 Click on Map to see a larger image
Car Parking:
Street parking is scarce, and often cars are allowed to park on one side of the road only. Try West Street, Compton Lane or the roads off Cross Street.
The school on Cross Street (opposite the visitors' turnstiles) has space for 400 cars, there is a charge.
Large car park at the town hall. This is a pay and display car park during the day, but free at night.
Town centre car parks. Try the one in the large roundabout at the end of Saltergate
Pubs:
There are several pubs along Saltergate and all tend to welcome visiting fans.
Food:
There's the KFC on the corner of Foljambe Street and Chatsworth Road and several chip shops on Chatsworth Road.