By car:
From South (M1): Exit M1 at junction 10 (s/p A1081 Luton (S)). At motorway roundabout, turn right (s/p Luton South A1081) onto the A1081. After 0.5 miles, turn left at junction 10A (the next roundabout, s/p Stockwood Country Park, Mossman Collection) into London Road. After 1.2 miles, turn left at roundabout (s/p Ring Road, Bedford A6, Dunstable A505) onto the Ring Road. Follow signs to Other Routes A505 and then get into middle lane for double roundabout after 0.5 miles. Turn left at the first (s/p A1 North, Dunstable A505) and follow signs to Toddington B579 under bridge into Dunstable Road. The ground is down the side-streets on left hand side.
From North (M1): Exit M1 at junction 11. At roundabout turn left (s/p Luton A505). The A505 leads to the ground ... past the Leicester Arms on right hand side (0.3 miles), to Birchlink Gyratory (1.4 miles). Follow Town Centre A505 signs round small one-way system and ground is down streets on right hand side.
From East (A505): At first roundabout on outskirts of Luton, go straight on (s/p Luton A505, Motorway M1) into Stopsley Way. At roundabout after 0.5 miles turn left (s/p Town Centre, Dunstable A505, M1) into Vauxhall Way. At next roundabout after 0.7 miles, turn right (no s/p) into Crawley Green Road. Down hill for 1.0 miles to St. Mary's Roundabout, go straight across (s/p Dunstable A505, Bedford A6) into Park Viaduct, onto flyover. Straight on at next roundabout (s/p Dunstable A505, Bedford A6). Then as From South (M1).
By rail:
Follow signs 'London Luton Airport, Railair Coach Link', down steps into Station Road. Straight on into Mill Street, passing the Job Centre on the left hand side. At T-junction, by Pizza Palace, turn right. Follow road round, passing Kashmir Indian restaurant on left hand side, to roundabout. Here, turn left into Telford Road Inner Ring Road. Keep on left hand side and up pathway along side of dual carriageway. Keep on path until there's a roundabout below. Bear right on walkway to central ironwork 'pagoda', and take first right walkway down into Dunstable Road. First left into Hazelbury Crescent to ground, and pathway down right of ground to away turnstiles in Oak Road.
By bus:
Nos. 37 and 38 run from Park Square or Upper George Street (by Town Hall) along the Dunstable Road.
Trouble Factor:
Very rare.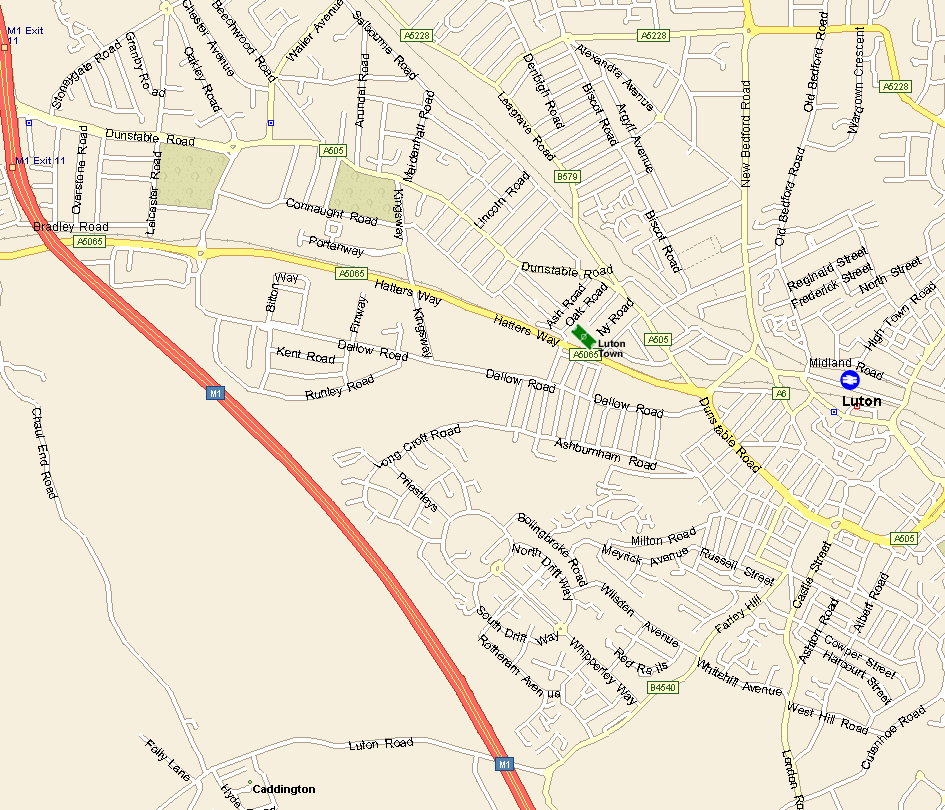 Click on Map to see a larger image
Car Parking:
The roads immediately around the ground are blocked off by the police. There is a lot of street parking around - try the roads on the other side of Dallow Road, and those off Dunstable Road towards junction 11 of the M1 (i.e. Shaftesbury Road to Churchill Road). The parking is not totally safe - i.e. don't leave valuables in view.
Pubs:
The local pubs tend to be home fans only. The best pubs can be found in the city centre. Try along the High Town Road and by the station.
Food:
Dunstable Road has a fine selection of restaurants and takeaways.