By car:
Exit M25 at junction 4 (s/p Bromley A21, Orpington A224). At roundabout after 1.3 miles (s/p Croydon A232). Follow signs to Croydon (A232) for 3.5 miles to where the road divides. Here, keep left through lights (s/p Croydon Station and then Croydon A232) Onto the A232. Follow Croydon A232 signs for a further 5.1 miles.
Shortly after The Shirley Inn and The Crown pub on the left hand side, turn right at roundabout (s/p Croydon, Sutton A232, Redhill, and Water Palace) into Shirley Road. At next roundabout after 0.3 miles, go straight on (s/p Norwood A215, Addiscombe) Onto the A21 5.
At T-junction after 0.6 miles turn right (s/p Beckenham A222, South Norwood A215, Crystal Palace) into Addiscombe Road.
After 0.2 miles turn left (s/p South Norwood A215, Crystal Palace A212) into Spring Lane. AtTjunction after 0.3 miles turn right (s/p Central London, South Norwood, Crystal Palace A21 5) into Woodside Green, which immediately becomes Portland Road.
After 0.8 miles, just after railway bridge, turn left (s/p Croydon Town Centre, Selhurst A2l3) into South Norwood High Street. After 0.4 miles turn right at lights into Park Road to ground.
By rail:
There are three stations near the ground, all within five and ten minutes walk.
Trains to Thornton Heath and Selhurst run from Victoria, to Norwood junction from Victoria and London Bridge. From Thornton Heath: Turn left out of station and cross road. Bear right at the first junction into the High Street and left at roundabout into Whitehorse Lane.
From Selhurst: It's weIl-signposted. Turn left out of station, and left at lights into Clifton Road. Take the 2nd right lopposite Clifton Arms) into Holmesdale Road.
From Norwood Junction: Straight out of station, and left at end of road into Selhurst Road, Take 3rd turning on right to ground.
By bus:
The main routes are the nos. 68A, 75 and 157
Trouble Factor:
Crystal Palace fans tend to be friendly and there is very little trouble in and around the ground.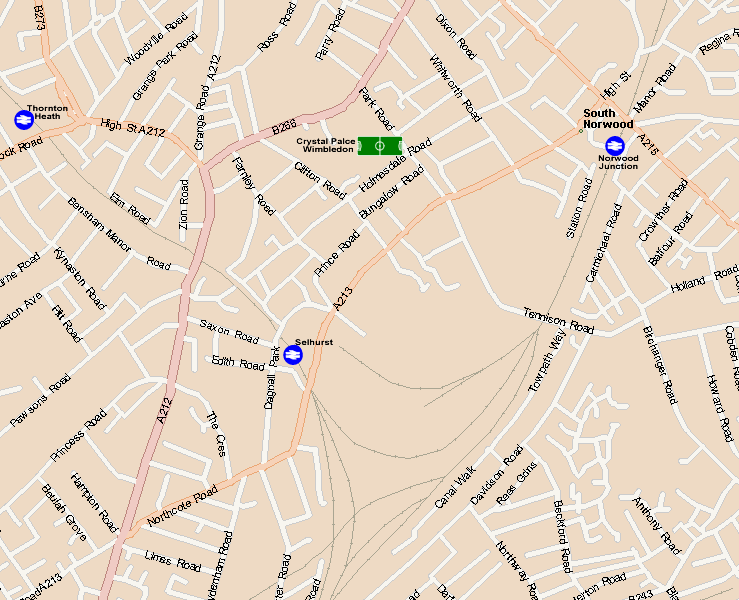 Click on Map to see a larger image
Car Parking:
A bit of a nightmare, we are talking London and street parking here. Sainsbury's car park is available from 1:30pm on matchdays, but it's first come first served so get there early. Otherwise it's street parking - the later you get there the further you have to walk.
Pubs:
There are several good pubs in walking distance of the ground, try: The White Horse on Selhurst Road, The Albion on Thornton Heath High Street, The Selhurst Arms on Selhurst Road and The Goat House on Penge Road.
Food:
Pretty good selection of food in the ground, all seemed a good quality as well.
Round the ground there are numerous takeaways, chip shops, burger bars, etc. Just wander round there is something for every taste here.