By car:
From all directions: Exit M4 at junction 42 (s/p Swansea A483) onto the A483. After 1.2 miles go straight over roundabout (s/p Swansea A483) into Fabian Way. Past gas storage tanks and the docks and after 3.5 miles, straight on at lights (s/p City Centre, Gower), over River Tawe. Follow City Centre and then Gower, County Hall signs over four sets of traffic lights into Oystermouth Road. After 0.3 miles, there's a left turning to the County Hall (the big black and white building, which has a free car park). For the ground, take next right filter, just after the prison (s/p T A Centre). Take left-hand fork past Glamorgan pub into Argyle Street and 1 st right turn into Richardson Road to away turnstiles.
Occasionally, due to strong winds, the section of the M4 past Swansea closes, and traffic is diverted onto the old A48 road. Follow Swansea signs, and the A48 joins the A483 coast road.
By rail:
About 1.0 miles. For big matches, the police escort fans to and from the ground. If you don't have the pleasure of an escort then cross main road in front of station and head down Alexandra Road towards the big red-brick apartment complex. At traffic lights, take left fork (Orchard Street) to roundabout. Turn right round roundabout and take 2nd exit into Kingsway (dual carriageway, shopping street). Straight on at next roundabout into St. Helens Road, and 2nd left into Richardson Street, which leads to away terrace.
By bus:
All local buses go via the bus station at The Quadrant shopping centre, which is five minutes walk from the ground.
Trouble Factor:
A large hooligan element still exists and trouble is not confied to Cardiff matches. Take care and don't display colours openly outside the ground.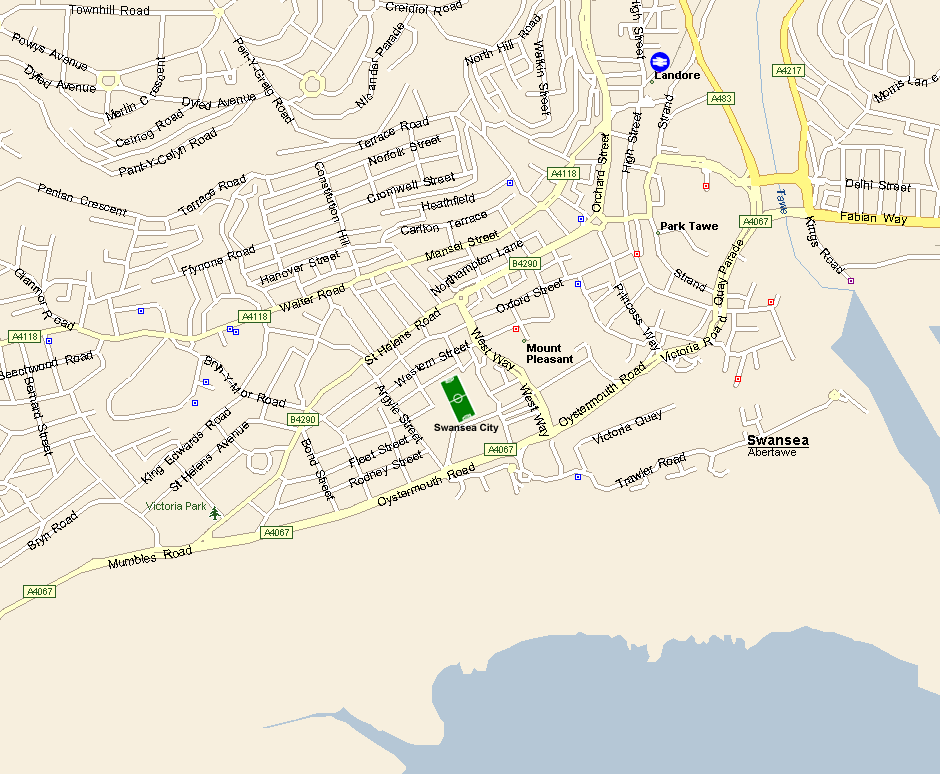 Click on Map to see a larger image
Car Parking:
Most visiting fans use the free car-park at the County Hall, which is the right side of the ground for the away terraces. There is some street parking, but it tends to be on the Mumbles side of The Vetch which means you're at the back of the bottleneck of traffic heading back to the M4. There are also multi-storey car parks in the town centre: to get to the ground, head to the seafront and turn right at the Glamorgan pub.
Pubs:
The Builders Arms at the end of Oxford Street is poular and allows visiting fans in. It gets packed though and you may prefer a wander around the Mumbles where many quieter pubs can be found.