By car:
From North and West: Exit M25 at junction 29 (s/p Romford, Basildon, Southend A127). At motorway roundabout turn left (s/p Basildon, Southend A127) onto the A127. 'Straight on for 20 miles, passing The Bell pub on the LHS, then a Kentucky Fried Chicken. At next roundabout, turn right (s/p Town Centre A127) into Victoria Avenue. Roots Hall is on the right hand side after 0.6 miles.
From South: Exit M25 at junction 30 (s/p Thurrock Lakeside, Tilbury A13 East). At roundabout, turn right (s/p Grays, Tilbury A13, Thurrock A125) onto the A13. At Sadlers Farm roundabout after 13.8 miles turn left (s/p Chelmsford A130, Southend A127). Follow Chelmsford/Southend signs at the next two roundabouts, and (after 2.9 miles) turn right at 3rd roundabout (s/p Southend A127) onto the A127. Then as From North and West (it's 6.6 miles from here to the Victoria Avenue roundabout).
By rail:
There are three stations in Southend. Prittlewell and Victoria are on the Liverpool Street line, Southend Central - the station nearest the shops and the seafront - is on the Fenchurch Street line.
Prittlewell is the nearest station to Roots Hall -about five minutes walk. Bear left out of the station and up to the main road (viz East Street - the road with The Railway pub on it). Turn right, and then right again at the crossroads into Victoria Avenue.
By bus:
Numerous buses run from the town centre, along Victoria Avenue, to Roots Hall, including the 7, 8, 9, 10, 11, 12, 20, 29B and the 251.
Trouble Factor:
A pleasant and friendly place. Staying over on Saturday night may result in some trouble from the clubbers travelling up from London or the endless stag parties.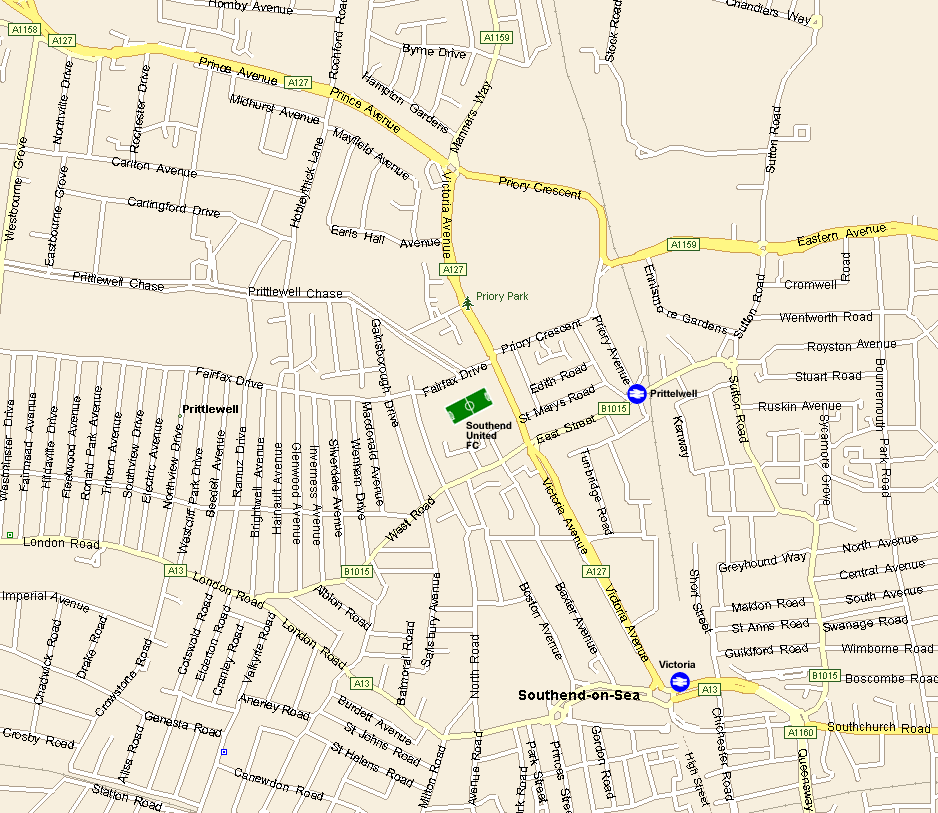 Click on Map to see a larger image
Car Parking:
The car park at the ground is not available to away fans. So it's street parking. The side-streets off West Road are usually a good bet. Alternatively home fans recommend Prittlewell Chase.
Pubs:
The Golden Lion and The Nelson are both within 5 minutes walk of the ground and welcome away fans. The more adventurous might try the sea front. There are plenty of pubs and eateries. The pubs all seem to welcome away fans, but many discourage the wearing of colours.
Food:
Try the sea front for a great selection of eateries.