By car:
From South (A64): Exit A64 at signpost York North A1237, Harrogate A59. At 1st roundabout go straight on (s/p York North, Harrogate) onto the A1237. Keep on A1237 for 5.1 miles, over 3 roundabouts and over River Ouse. At 4th roundabout, turn right (s/p York Centre A19) onto Shipton Road. At lights after 1.7 miles by village green, go straight on (s/p City Centre). After 0.4 miles turn left by Burton Stone pub into Burton Stone Lane. Take 1st right turn into Grosvenor Road to ground.
From North (A19): Continue on A19 to the roundabout which forms the junction with the A1237. Take 2nd exit (s/p York Centre A19) onto Shipton Road. Then as From South.
From East: Exit A64 at signpost York A1036, Thirsk, Harrogate A1237. Continue on A1237 for 3.5 miles to 6th roundabout. Here turn left (s/p York B1363) into Wiggington Road. Straight on for 1.6 miles, passing Nestles factory on left hand side, then turn right at traffic lights (n/s) into Crichton Avenue. Over bridge, then take 1st left turn into Burton Stone Lane. The 5th road on left hand side is Grosvenor Road.
By rail:
From Railway Station (York): It's a 20-25 minute walk. Turn left out of station along Station Road and turn left at first traffic lights, turn right immediately before the tunnel into lane. Cross over footbridge over river - the floodlights are visible from here. Walk along path by railway to ground.
By bus:
The no. 8 runs from Rougier Street, to Exhibition Square, Clifford Street and Burton Stone Lane.
Trouble Factor:
A friendly ground.
Fans Comments: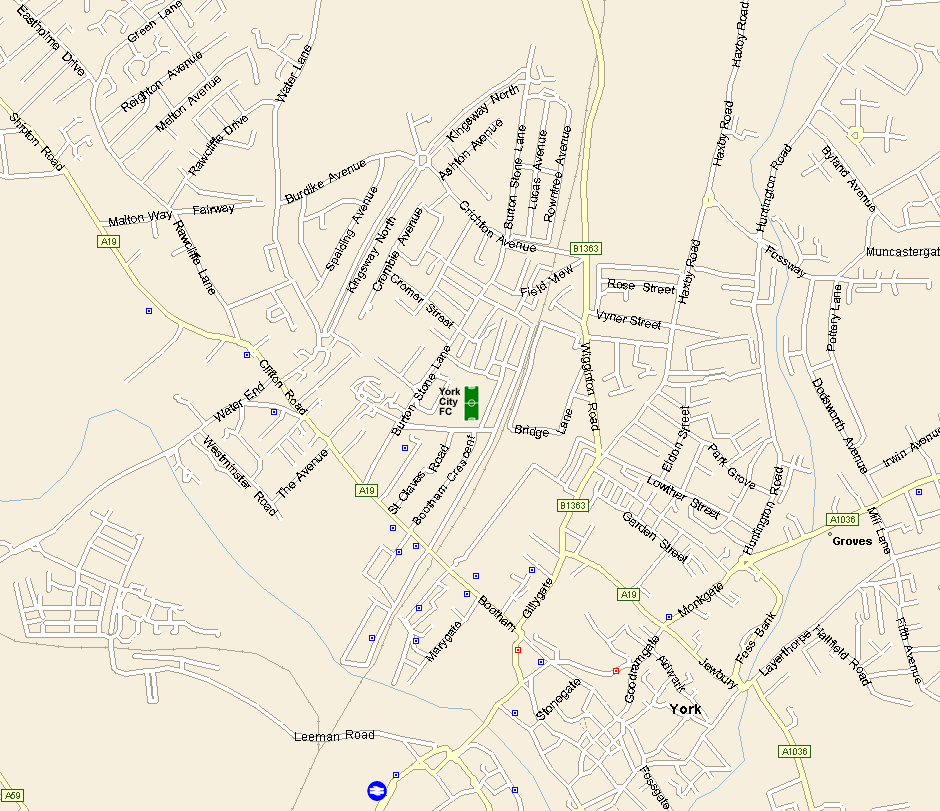 Click on Map to see a larger image
Car Parking:
The best idea is to park in one of the car parks nearer the city centre, which are cheap and more secure than street parking. The nearest to Bootham Crescent are at Marygate and Clarence Street, both easily accessible from the A19.
Pubs:
The Burton Stone welcomes away fans and serves good food. The Mansfield Corner House, just down the road also welcomes away fans and is the better bet for families.
Food: