By car:

THE DETAILS ON THIS PAGE ARE FOR CRAVEN COTTAGE. HOWEVER, AS YOU ARE ALREADY AWARE, FULHAM ARE CURRENTLY PLAYING THEIR HOME GAMES AT LOFTUS ROAD WHILE THE FUTURE DEVELOPMENT OF CRAVEN COTTAGE IS RESOLVED.
FOR NOW, THOSE WANTING DIRECTIONS FOR FULHAM SHOULD GO TO THE QPR PAGE WHERE INSTRUCTIONS AND A MAP FOR GETTING TO LOFTUS ROAD ARE AVAILABLE.


From the North:Exit M25 at junction 15 (s/p M4 Heathrow terminals 1,2,3 London (W) onto the M4 eastbound. Remain on the M4, which becomes the A4, following signs to central London for 10.4 miles to Hogarth roundabout.
Here, take the second exit (s/p central London, Hammersmith, A4) remain on the A4, passing the Griffin (Fullers) Brewery. At the Hammersmith flyover junction after 1.1 miles keep in left hand lane and exit the A4 (s/p Hammersmith (A306, A313,A219).
Follow signs to Oxford (A40) for 0.3 miles to T-Junction in front of Hayes accountants personal. This is the Hammersmith roundabout. Continue round roundabout for 0.3 miles to where road runs underneath and parallel to the A4 and turn left (s/p alternative route via Putney Bridge) into Fulham Palace Road.
Go straight on for 1.3 miles, and turn right into Bishops Park Road, which leads round to the ground.
From the south/south London, from Putney Bridge: Over Putney Bridge, and after 0.1 miles go straight on at the junction / lights by the Pharoah & Firkin pub (s/p the West and West End) - at mini roundabout after 0.1 miles by the Kings head pub, go straight on into Fulham Palace Road. Ground is 0.2 miles on the left hand side.
By rail:
From Underground station: Putney Bridge: 15 minute walk to Craven Cottage. Turn left out of the station and right down Ranelagh Gardens. At end of road (before passing the Eight Bells pub) turn left into Willow Bank, and immediately right through underpass into Bishops Park. Walk along river bank to ground. Please note: The Park is closed after evening games when supporters must walk via Fulham Palace Road.
By bus:
The nos. 74 (from Baker St. Station to Roehampton) and 220 (from Harlesden to Wandsworth) both run along Fulham Palace Road.
Trouble Factor:
A safe ground to visit and very little trouble in recent years.
Fans Comments: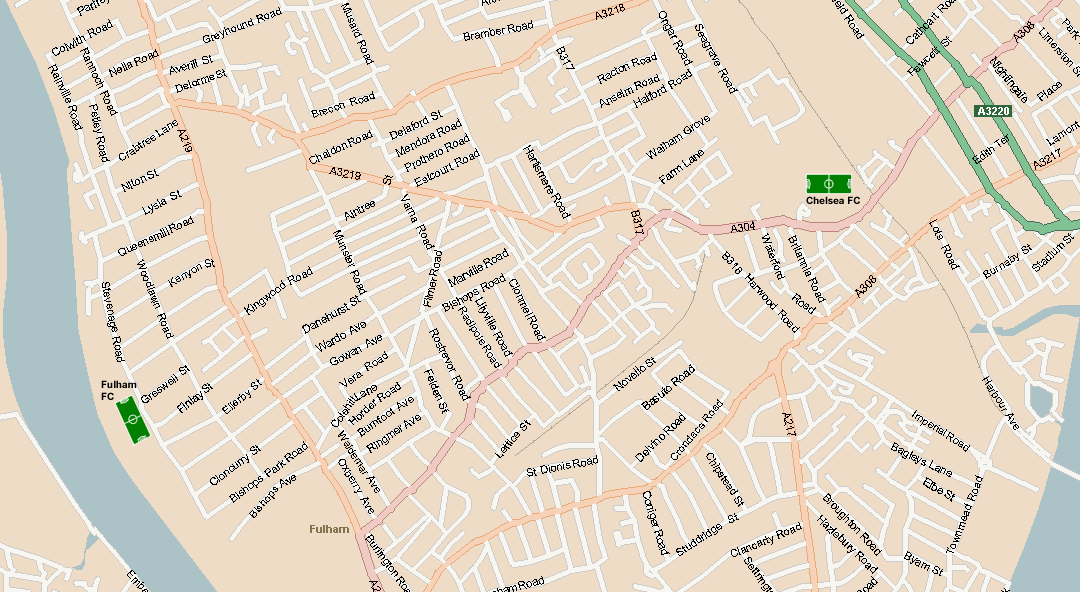 Click on Map to see a larger image
Car Parking:
Nearly all street parking. There's a fair bit of it as well and the local police tend to be friendly and tolerant unless you insist on parking on corners or yellow lines.
Pubs:
Most pubs in the area are happy to serve a mix of home and away supporters.
Food:
Plenty of takeaways in Putney High Street, or in Hammersmith if approaching from the North. Some outlets in Fulham Palace Road.