By car:
From North: Exit M25 at junction 27 and follow signs to M11 London (NE) onto the M11 southbound. After 7.0 miles, where motorway ends and road divides, keep right (s/p A406 N. Circ. Rd W, London N and W) onto the North Circular Road. Take 1st exit (s/p Whipps Cross, A104, West End A503). At roundabout take 1st exit (s/p The City A104) onto the A104. At (Whipps Cross) roundabout after 1.2 miles, take 2nd exit (s/p Bakers Arms, Leyton) and keep left where road divides into Lea Bridge Road. After 0.5 miles, just past Esso garage, turn left at lights (s/p Leyton, Stratford) into Leyton Green Road. Left after 0.3 miles (s/p Leyton Leisure Lagoon), and left at T-junction into Leyton High Road. After 1.2 miles, turn right into Balmoral Road to ground.
From East (A12): Continue on A12 under M25. After 9.5 miles, at Gants Hill Cross roundabout (just past King George V pub on RHS), take 3rd exit (s/p M11, M25, The City A12). At roundabout, junction with A406, after 0.8 miles, take 2nd exit (s/p The City A12, Blackwall Tunnel A102). At roundabout after 1.4 miles, take 3rd exit (s/p Whipps Cross A114) onto the A114, and after 1.0 miles, at Whipps Cross roundabout, take 1st exit (s/p Bakers Arms, Leyton). Then as From North.
From South and West, Blackwall Tunnel: (For directions to Blackwall Tunnel, see London Road Guide.) Keep on A102(M) out of tunnel. After 2.6 miles, where road divides and is signposted A106 (and A102!!) both ways, bear right (s/p Leyton A106). Straight on for 1.6 miles, past New Spitalfields Market, and turn left at first set of lights (n/s) into Oliver Road. If you miss this turning, continue to next lights and turn left into Leyton High Road.
By rail:
From Underground (Leyton, Central Line): It's about five minutes walk. Turn right out of station, into Leyton High Road. Take 7th turning on left into Buckingham Road (the turning just past Coronation Gardens). This leads directly to the away end.
By bus:
Bus nos. 58, 69, 97 and 158 run to the ground.
Trouble Factor:
No real trouble in or around the ground for a long, long time.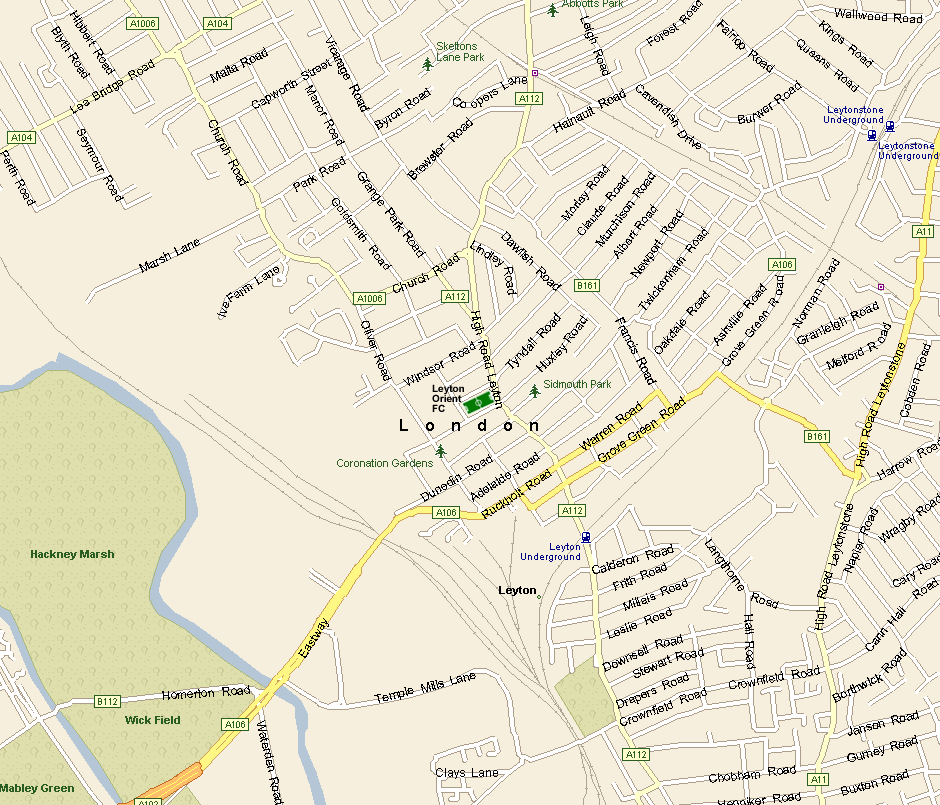 Click on Map to see a larger image