By car:
From All Directions: Keep on A38 passing Welcome to Plymouth sign. At the Marsh Mills turning, after 1.7 miles, keep right (s/p Cornwall, Liskeard, Tavistock A387), over estuary. At Manadon Turning after 2.4 miles, exit A38 (s/p Tavistock, City Centre A386, also Home Park). At roundabout take 2nd exit (s/p City Centre A386, also Home Park), onto Outland Road A386. Ground is on left hand side after 1.1 miles.
By rail:
From Railway Station (Plymouth): About 0.75 miles - most of it uphill. Turn right out of station, and turn right down dual carriageway, under the ivy-painted railway bridge. At roundabout bear right into Central Park Avenue passing Royal Mail Sorting Office on right hand side. Take 2nd left into Holdsworth Street. Walk up street to the edge of the park, and walk up pathway up over the crest of the hill. Where the path joins a tarmac path, bear right... and head towards the floodlights.
By bus:
From Monday to Saturday Park-and-Ride buses run between Home Park and the town centre. Alternatively, nos. 33 and 34 run along Outland Road, while nos. 16, 29, 32, 42 and 43 run along the top of Alma Road, a five minute walk from the ground.
Trouble Factor:
A small hooligan element is present, but it concerns itself mainly with visits from local rivals Exeter or Torquay.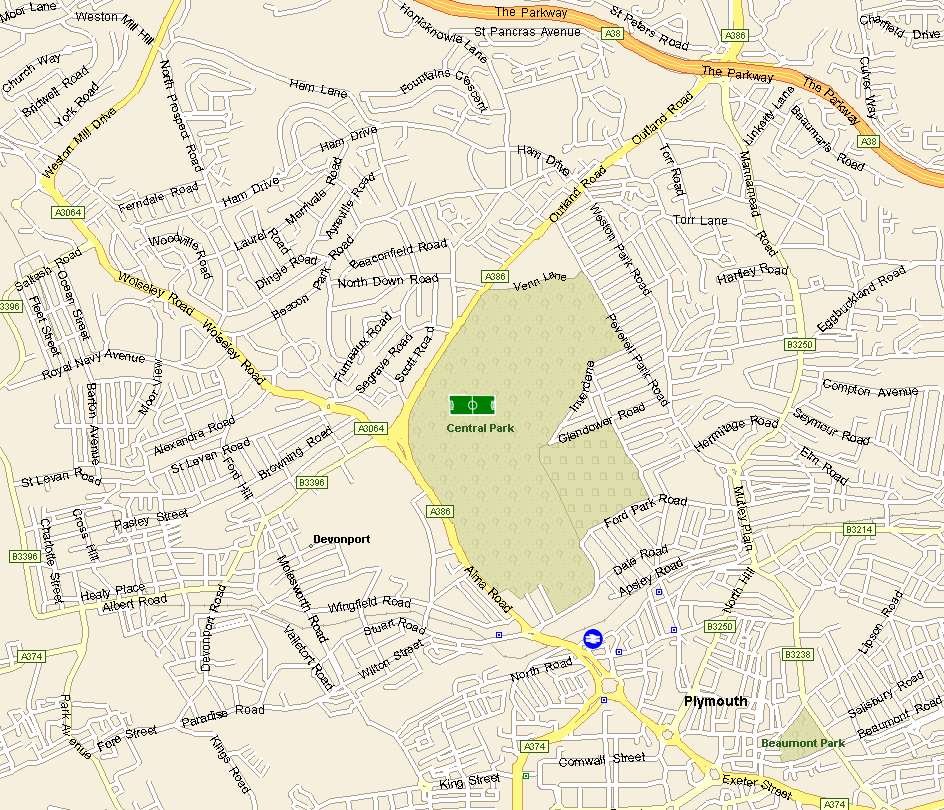 Click on Map to see a larger image
Car Parking:
There is a large, free car park in front of the ground, which holds about 900 cars. Otherwise it's street parking, and that usually means 5-10 minutes' walk to the ground.
Pubs:
What pubs there are near the ground tend to be home fans only. A trip to Plymouth centre will allow you to sample local ales and pasties.