By car:
From All Routes: Exit M5 at junction 30 (s/p Exmouth, Sidmouth A376, Exeter), and at roundabout follow signs to Park and Ride, Middlemoor, Sowton Ind. Est., Services. At next roundabout after 0.2 miles, take 1st exit (s/p Bishops Court Quay, Trading Estate, Middlemoor) into Sidmouth Road. At next roundabout after 0.7 miles by Exeter Arms, take 3rd exit (s/p Honiton A30, Pinhoe A3181) onto the Ring Road. At crossroads/lights after 1.1 miles, just past Sainsburys, turn left (s/p City Centre B3212) onto Pinhoe Road which becomes Blackboy Road. At next roundabout, after 2.5 miles, just after Horse and Dray pub on righ ahnd side take 3rd exit (no signpost, pass the Bakers Oven on left and go straight on) into Old Tiverton Road. Take 1st left into St James Road for the ground.
By rail:
From Railway Station (Exeter St Davids): About 1.2 miles. Head across car park towards Saab Garage, and up path which runs between the garage and the houses to the main road. Cross road and head straight on into Howell Road. Straight over next crossroads into continuation of Howell Road. Past the prison and Eagle Tavern on right to crossroads. Turn left into Blackall Road, and right at T-junction into Pennsylvania Road. Take 1st left by letter box into York Road, and 1st left again into Well Street. Past fish and chip shop on right and Brook Green Tavern on left hand side, and turn 1st right into St James Road.
From Railway Station (Exeter Central): About 0.7 miles. Turn left out of station into Queen Street. Turn left at T-junction by C&A; into pedestrianised High Street. At crossroads by Debenhams go straight across into Sidwell Street. Past Tescos, Odeon Cinema and KFC to roundabout. Take 1st exit, i.e. keeping to the left passing Bakers Oven, into Old Tiverton Road. Take 1st left into St. James Road.
By bus:
Buses C, E, F and P run from the High Street along the Old Tiverton Road. The G, K, L and T run along Blackboy Road and the U runs along Mount Pleasant Road.
Trouble Factor:
Generally a friendly ground unless you follow Plymouth or Torquay.
Fans Comments: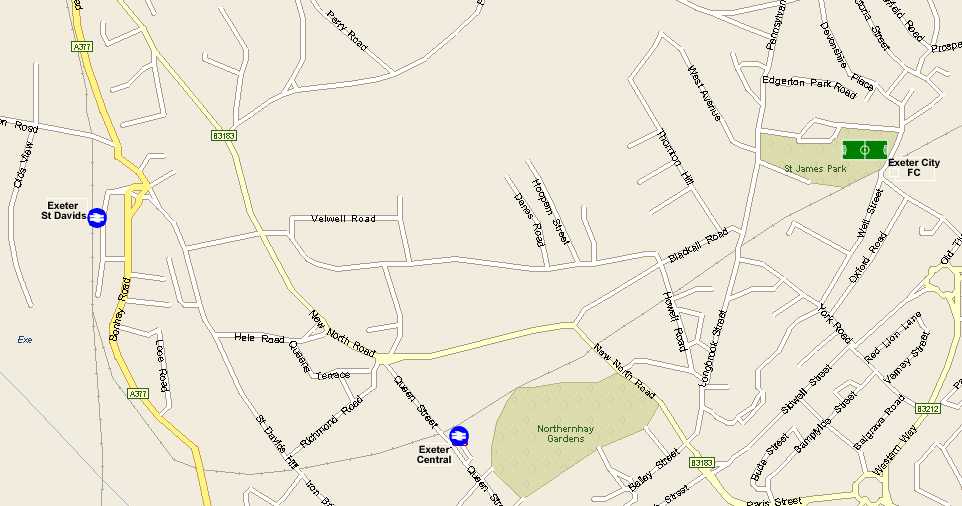 Click on Map to see a larger image
Car Parking:
The roads round the ground are either residents' parking or allow for only a limited stay. There is street parking further from the ground, e.g. in Howell Road, but it does mean a good ten minute walk. One alternative is the multi-storey in King William Road, which is well signposted.
Pubs:
The Centre Spot, the Exeter City social club, allows visiting fans through the doors. There is a small admission fee, but fine ale and food.
Food:
See pubs.