By car:
All routes: Exit M180 at junction 3 onto the M181 (s/p Scunthorpe West and Centre). After 2.6 miles, at end of motorway, take 3rd exit at roundabout (s/p Scunthorpe A18). The ground is on the right only a few yards from the roundabout, and is signposted.
By rail:
From Railway Station (Scunthorpe): It's a long trek, about 2.25 miles and at least half an hour's walk. Turn left out of station into Station Road. Straight across at the lights into Church Lane. Follow Church Lane for 0.8 miles past Scunthorpe General Hospital to T-junction with Kingsway (A18). Turn right along Kingsway, past the Municipal Golf Course to roundabout (0.6 miles). Take 3rd exit (s/p Goole A161, Doncaster A18) and after 0.4 miles, the ground is on the left.
By bus:
The no. 341, runs along the Bolsover Road.
Trouble Factor:
A trouble free ground.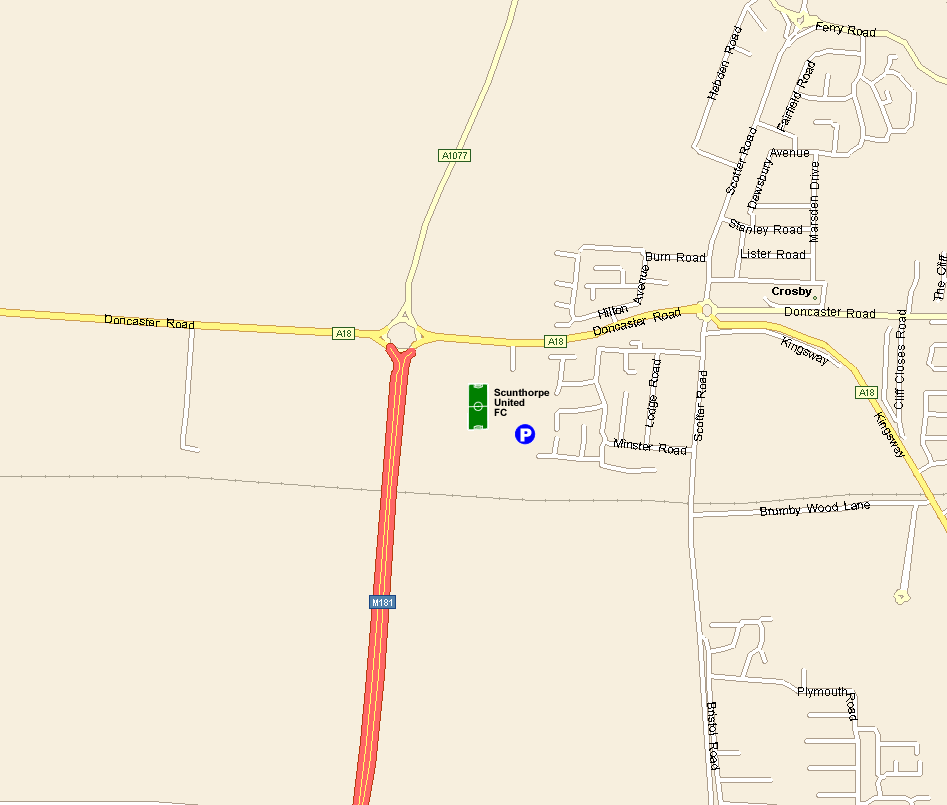 Click on Map to see a larger image
Car Parking:
There is a large car park at the ground. If you get there early you won't struggle for a space. However, if it is full the club usually use a farmers field. Otherwise, the nearest street parking is 15 minutes walk away.
Pubs:
There is a pub directly opposite the ground, Tom Cobleigh's, which is friendly to away fans. However, it does not like of away fans wearing colours turning up as a large group.
Food:
Tom Cobleigh's does good food.