By car:
There's a crossroads near Plainmoor, by a company called Triton, which is a key junction for giving directions below (i.e. 'the Triton crossroads'). It's the junction ofWesthill Road, St Marychurch Road and Warbro Road, and the floodlights are visible.
From North and East: Exit A38 onto the A380 (s/p Torquay A380). After 9.4 miles cross River Teign, and at the Penn Inn roundabout after 0.9 miles go straight on (s/p Torquay A380) into Torquay Road. After 3.1 miles, after passing through village of Kingkerswell, take 1st exit at roundabout (s/p Torquay A3022, Teignmouth B3199) onto the A3022 Riviera Way. After 1.0 miles, in front of Ford garage, turn left (s/p Teignmouth B3199, St Marychurch, Babbacombe, Plainmoor TUFC) into Hele Road. From here to the Triton Crossroads' the ground is signposted, a distance of 1.3 miles. Straight on at crossroads to the ground, or turn right to The Union pub, local shopping area and town centre.
From South-West (ie Plymouth): Exit A38 at Marley Head junction (s/p Paignton A385) onto the A385. Follow signs for Paignton A385 for 11.2 miles, through Dartington and Totnes, over River Dart and into Borough of Torbay to junction with the Ring Road (crossroads with traffic lights). Turn left (s/p Ring Road, Exeter A380) onto the A380. Follow signs for Torquay and Newton Abbot for 3.4 miles, over the Churscombe and Preston Downs roundabouts, to the Gallows Gate roundabout. Here turn right (s/p Shiphay). After 1.7 miles, at T-junction, turn left (s/p Exeter A380) onto the A3022. After 0.4 miles, by Texaco station, turn right at lights (s/p Teignmouth B3199, Plainmoor TUFC) into H Hele Road. Then as From North and East.
To Town Centre from the Triton Crossroads': It's dead easy. Turn right at crossroads into St Marychurch Road. Go straight on, passing the York and Union pubs on LHS, for 0.9 miles to where the road divides. The town centre is in front and to the left, and multi-storey carparks are signposted.
By rail:
From Railway Station It's a long old trk to the ground from the station and the buses tend to be on the slow side. The best otion may be to get a Taxi (£5 -£6). However, for those that fancy the walk then walk down to seafront and turn left (a good idea here would to be to stop and have a drink/lunch). Keep walking along the seafront. After about 0.7 miles, the road bends away from the seafront to a roundabout. Here, keep left (s/p Central Area), and just after Winter Garden turn left into Fleet Street, a semi-pedestrianised shopping centre. At roundabout at end of street, take 3rd exit into Pimlico. Bear left at first junction and at T-junction opposite Showboat, turn right up Market Street. Just past row of shops, after 0.1 miles, take left fork into Ellacombe Road. At T-junction by Torquay Autoparts turn right, keeping on Ellacombe Road. At T-junction, go straight on crossing Ellacombe Church Road into Windsor Road. After 0.5 miles turn left into Warbro road to away turnstiles.
By bus:
No. 34 runs from Fleet Street, along St. Man/church Road to Plainmoor.
Trouble Factor:
Aside from visits by Plymouth and Exeter you will struggle to find any trouble at this friendly ground.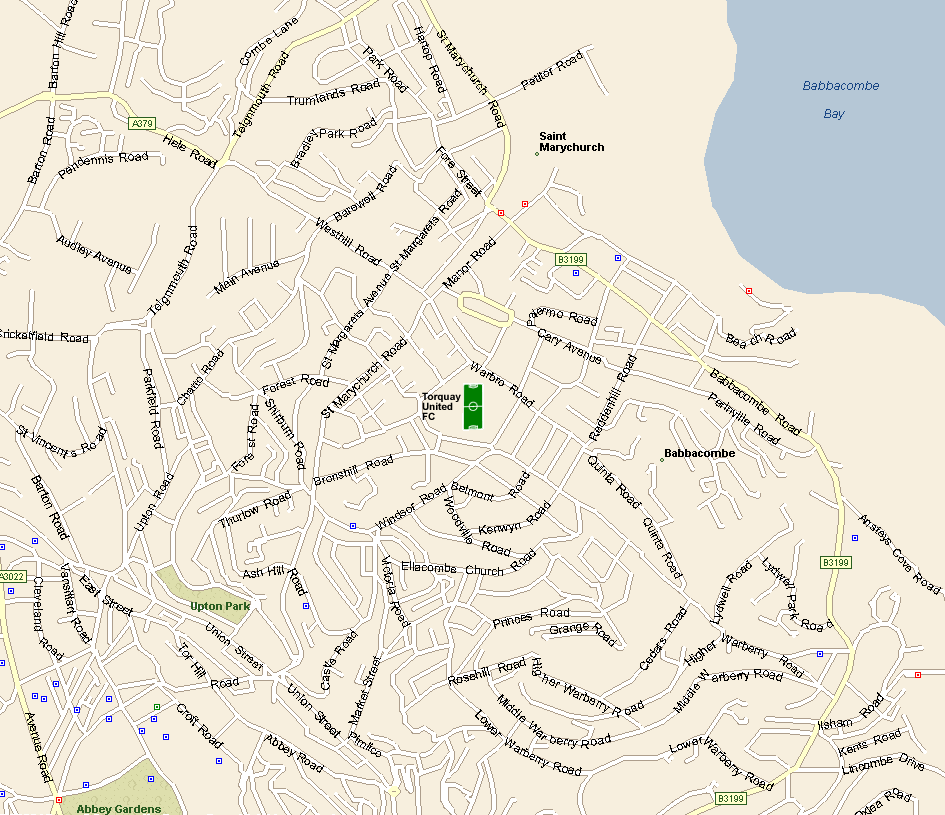 Click on Map to see a larger image
Car Parking:
It's street parking around there ground, there's plenty of it and very few restrictions.
Pubs:
There are a couple of pubs near the ground and they do welcome visiting fans. However, we found the best option was to go to the sea front where there is a large selection of bars to choose from. Be warned though, most of the more 'upmarket' pubs have signs up discouraging football fans. There are still plenty of other pleasnat pubs though.
Food:
The sea front is the best place again. There is a large selection of chippies, sea food stalls and numerous other restaurants.