By car:
NB. Sir Matt Busby Way is closed to through traffic around 3 hours before each match.
From West and East: Exit M63 at junction 7 (s/p Altrincham, Stretford A56). At lights turn right (s/p Stretford A56) under motorway. At roundabout after 0.5 miles, take 2nd exit (s/p Manchester, Salford, Trafford Park A56) onto Chester Road. Past the Arndale shopping centre and McDonalds on left hand side after 0.3 miles. After a further 0.6 miles, keep left where road divides. The ground is down Sir Matt Busby Way (formerly Warwick Road North) on the left hand side after 0.8 miles.
From South: The motorway route is M6 to junction 19, onto the A556 towards Manchester and Stockport. At roundabout after 4.1 miles turn right (s/p Manchester Airport, Stockport, Stretford M56) onto the M56. After 8.0 miles follow signs to Stretford, Leeds, Bolton M63 onto the M63 westbound. Exit M63 after 2.5 miles at junction 7 (s/p Altrincham, Stretford A56). Then as From West and East.
There is an alternative route which goes through the suburb of Altrincham, which has a variety of cafes and restaurants. Instead of turning right at roundabout onto the M56, go straight on (s/p Altrincham A56) onto the A56. Follow Manchester A56 signs for 8.0 miles to traffic lights at junction with M63 (just past TGI Fridays). Go straight on (s/p Stretford, Manchester A56) under motorway. Then as From East and West. On the return journey, if the M63 is obviously bottlenecked, retracing this route is often a quicker way back to the M6.
From North (M61): Follow signs to Liverpool M62, Stockport M63 onto the M62. Exit M62 at junction 12 (s.p Warrington, Liverpool M62, M602 Salford). Keep in left hand lane, following Salford M602 signs, onto M602. After 3.7 miles, exit M602 at junction 3 (s/p Salford, Trafford Park A5063). At roundabout at end of slip road take 3rd exit (by old church, s/p Trafford Park, Salford Quays A5063) into Trafford Road. Past Salford Quays (and MGM cinema) on RHS after 0.9 miles and after 0.1 miles cross Harbour City swing bridge. At lights, both right and left turns lead to the ground,
i) Left (s/p Manchester A5063, A56, Chester M6): at lights after 0.1 miles turn right (s/p Chester A56, Motorway M63) and Sir Matt Busby Way (formerly Warwick Road North) is on the right after 0.2 miles,
ii) Right (s/p Trafford Park A5081) leads to Trafford Park Road. Sir Matt Busby Way is the first left turn after 0.2 miles.
By rail:
From Metrolink Station (Old Trafford): It's 0.5 miles by foot. Exit station into Warwick Road, passing cricket ground on left hand side and Kelloggs building on right hand side. Straight over lights after 0.2 miles, and straight over crossroads by Old Trafford pub after further 0.2 miles into Sir Matt Busby Way.
By bus:
Bus nos. 252 through to 257, plus 263 run to Old Trafford.
Trouble Factor:
A very safe ground to visit. Tensions do rise on derby days though and when Liverpool and Leeds are in town.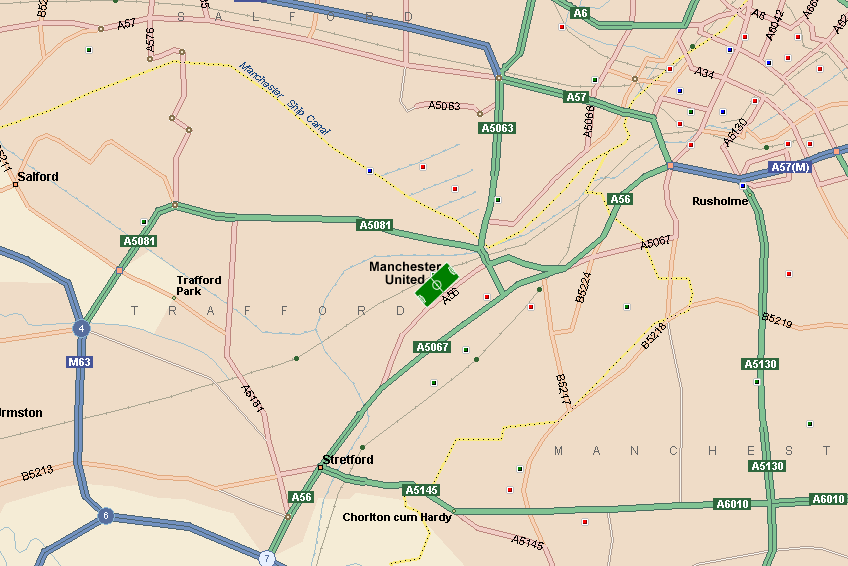 Click on Map to see a larger image
Car Parking:
Bearing in mind that Old Trafford Stadium is now huge, it's a better option to travel to the ground by public transport if possible. If you really must go by car then be prepared for traffic jams and long waits at car parks.
There's a multi-storey car park right by the ground with about 300 spaces - the entrance is off Chester Road just opposite Charlie Browns. A long wait to get out after the game.
Various industrial sites down Trafford Park Road offer pay parking, but be aware that they pack the cars in like sardines. First in is definitely last out.
There's also parking at Old Trafford Cricket Ground, at the Town Hall opposite and the Norweb building nearby.
Pubs:
Beer is served in the ground and there are no pubs for away fans around the ground.
Thirsty fans who do not want to drink inside the ground will have to walk about 5-6 minutes away from the ground to find an away fan freindly pub.
Food:
There is a large assortment of mobile food vans around the ground on match days.